Cambs Coronavirus Blog
Follow the latest news and developments on Coronavirus COVID-19 from here in Cambridgeshire.
Click here for the latest NHS Coronavirus health advice
Preparations underway for better walking and cycling options in Cambridgeshire
As the nation gets ready for a return to a 'new normal' due to Covid-19, the Government has advised members of the public to walk and cycle wherever possible, rather than relying on cars and public transport.

Since the Government announcement easing the nation's lockdown restrictions, working closely with the Cambridgeshire and Peterborough Combined Authority, both Cambridgeshire County Council and Peterborough City Council have spent time preparing for both permanent and temporary measures – some of which could be put in place within the next two weeks.

These measures aim to make walking and cycling a default option, by making it as easy as possible to make short trips. Both councils have been working with organisations such as Camcycle and Sustrans.

In Cambridgeshire there will be three waves of improvements planned as follows, including:

Next two weeks

- Shelford Road to the Waitrose junction - removal of bus lane and widening of cycle lanes
- Chesterton Road – removal of centre line and addition of a cycle lane
- Milton High Street – removal of centre line and addition of a cycle lane
- Girton Road – removal of centre line and addition of a cycle lane
- Kings Hedges Road – removal of a centre line and addition of a cycle lane

By early June

- Trumpington Road – on carriageway cycle lane and removal of bus lane and parking
- Trumpington Street to Kings Parade – potential on carriageway cycle lane

By mid-June

- One-way system in place on Mill Road.

In addition, the council is working with the Greater Cambridge Partnership to see if it can move ahead with the temporary closure of Luard Road and Grange Road in Cambridge.
Councillor Ian Bates, chair of highways and transport at Cambridgeshire County Council, said: "Our transport team has been carefully considering this for some time, as we know from looking at other countries that walking and cycling is key in getting our county moving again during Covid-19.

"We've been working closely with partners including Camcycle to identify temporary changes we can make quickly to our existing network which will help residents to rely less on cars and public transport and instead, walk and cycle over the coming months."
Chocolate eggs spread joy at children's ward
Easter may now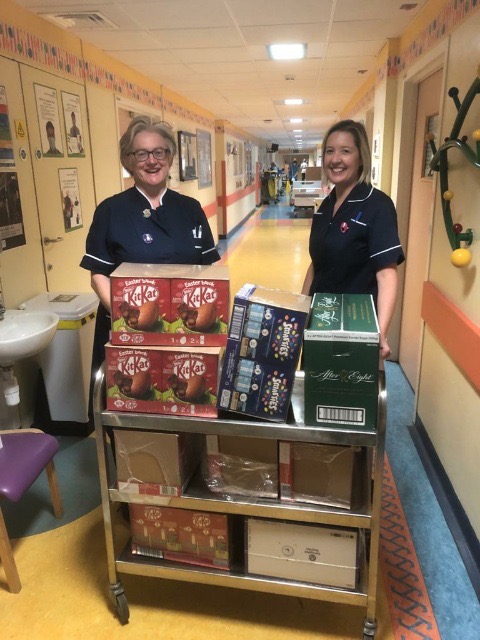 be a distant memory, but a chocolate company has brought smiles to the faces of people across the county by donating 5,000 Easter eggs.
Nestle International got in touch to say that it had a large number of chocolate eggs that it wanted to donate to good causes. Nestle agreed to provide 5,000 eggs, which have been given to front line staff working across Cambridgeshire and Peterborough.
This week some of the eggs were donated to the children's ward at Addenbrooke's Hospital, particularly those with terminal illnesses or undergoing cancer treatment.
Some of these children have limited access to their relatives because of the infection risks posed.
The large chocolate eggs were delivered to the hospital office of Dr Suzanna Watson, paediatric neuropsychologist (also a member of the Red Cross psycho-social team) who spread the word to the senior nurses. Distribution to the children's ward began and apparently the supply didn't last the hour!
Isleham Cricket Club assists the community
Although we have seen the suspension of team sports due to Covid-19, Isleham Cricket Club have still been working as a team to support their local community.

Last week, Isleham Cricket Club took over a phone box to provide food to those currently in need in the community. Shelves were fitted, by members of the club to hold the items donated by residents; with the lower shelves designated to gifts for children, such as books and quizzes.

Inside the phone box residents are also leaving non-perishable goods free for anyone in need to collect, with a volunteer a day visiting to maintain its stock. The phone box has allowed people to help others as well as receive anything they may need, whilst observing social distancing and keeping each other safe. Any extra items are donated to the local foodbank.

Since opening last week, the phone box has been largely popular, illustrating a great example of how communities can continue to work as a team during this time to support the wider community in safe and creative ways.
Road projects across Cambridgeshire and Peterborough
Crews across Cambridgeshire and Peterborough have been continuing to carry out safety critical work and essential highways maintenance.

A review has taken place across both councils to see which road work schemes could re-start, following that assessment, given the current low volumes of traffic and working with our contractors, it has been agreed work on a large number of road projects will start again.

Any work is being carried out in accordance with government health and safety measures, with workforces practising social distancing.

In Cambridgeshire the aim is to get the majority of schemes re-started by the end of this week. For example, in Cambridgeshire, Fenton Road, Little Stukeley, Isleham and Eastrea Road resurfacing, drainage work and footway sealing as well as Fendon Road/Dutch Style roundabout will start again.

Free online courses to support local people during pandemic
Cambridgeshire Skills, an adult and community learning service, is offering free online opportunities to help people get back on their feet. For a limited period, they are offering their online courses, such as 'employability boot camp, improve your English, maths, computer skills, garden design, food safety, Italian and more free to everyone.

Tanya Meadows, Head of Service at Cambridgeshire Skills – part of the adult education service at Cambridgeshire County Council, said: "We are changing our delivery style to meet the needs of the local communities during the current pandemic. We're launching new exciting online opportunities, which our tutors have been working hard to provide the resources they need online and will be there to support and guide the learner every step of the way. We will have a wide variety of courses available and for those who are less confident with digital skills we have created simple guides to help you get online."

Cllr Steve Criswell, Chair of the Communities and Partnership Committee at Cambridgeshire County Council, said: "I am delighted to see such innovation in our adult skills delivery to create online provision which will help to assist the county recover from the Covid-19 pandemic. These free courses will help people get back into work and support economic and social wellbeing."

If you would like to improve your knowledge, help build your confidence for a new job or interested in learning a new skill. Check out how Cambridgeshire Skills can help you, visit their website for more information or email cambsals@cambridgeshire.gov.uk
Monday 11th May Update:
Following the announcement yesterday (Sunday) from the Prime Minister, Cambridgeshire County Council leader Cllr Steve Count hasrecorded a video message saying while we wait for guidance there is no dramatic change.

Appeal For Foster Carers In Cambridgeshire To Transform Lives
Cambridgeshire County Council and Peterborough City Council are supporting this year's Foster Care Fortnight campaign to help raise awareness about how the dedication and commitment of foster carer's changes lives.

Foster Care Fortnight runs from the 11th -24th May and is the UK's largest foster care awareness raising campaign, it aims to show the positive impact foster care has on children's and young people's lives.

Foster carers accomplish incredible things every day, even in the face of a global crisis that has affected every one of us and impacted all aspects of our society. Despite the practical and emotional challenges that the coronavirus is bringing, foster carers continue to provide day-to-day support, love and stability to children and young people who can't live with their birth families. They support children and young people's education, health, and social wellbeing, and also help to maintain the children's relationship with the people who are important to them but who they cannot currently see in person.

Both Cambridgeshire County Council and Peterborough City Council are keen to hear from people who can care for sibling groups of brothers and sisters, children with additional needs and teenagers.

Carers receive payments and allowances to help cover their time and expenses, as well as advice and guidance so they are supported every step of the way.

For for more information, visit the website or email fostering@cambridgeshire.gov.uk or call 0800 052 0078.

Wellbeing plan launched as part of 'Now We're Talking' mental health campaign
Organisations across Cambridgeshire have come together to launch the campaign to get people talking and beat loneliness while self-isolating during the coronavirus outbreak.

Led by the local authority, NHS and third sector, the campaign helps people find where they can get increased mental health support.

The idea of the wellbeing plan is to help people get creative and think about things they can do that are good for their mental wellbeing.

A video to accompany the plan has been produced:
Youth services supporting The Kite Trust to help more young people
Youth services supported The Kite Trust to obtain a grant for £5,000 from the Office of the Police and Crime Commission for Cambridgeshire to help upgrade its IT setup and continue to provide effective remote support services.

The Kite Trust promotes the health, well-being, and inclusion of LGBTQ+ young people across Cambridgeshire; raising awareness, supporting, and educating communities.

During lockdown the charity has been struggling to meet the demand for its services so far, as young people's needs have changed and developed and because staff do not have the equipment they needed to work most effectively from home.

The charity has seen a 45% increase in the number of young people getting in touch with its services, up to 170 young people since the lockdown began. It's also nearly tripled the amount of time youth workers are spending supporting young people (184% increase) as their needs have changed and increased.


You can keep up to date with Cambridgeshire public services during Coronavirus here: https://www.cambridgeshire.gov.uk/residents/coronavirus/disruption-to-council-services