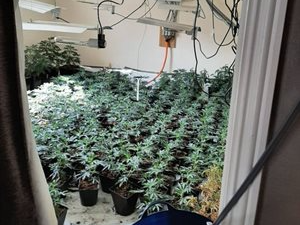 Officers have discovered a cannabis factory at a house in Cambourne thanks to a call from a member of the public.
Police were called to Reans Meadow just before 11am on Wednesday (21 April), where they discovered a total of 449 plants with a street value of up to £377,000 in various rooms of the house, including in the loft.
Officers remain at the scene and an investigation has been launched.
The discovery came as a result of suspicions about the house, which had all curtains drawn and had not been visited for some time.
Sergeant Rob Taylor said: "This was a great discovery following a call from a member of the public, who trusted their instinct when something didn't seem quite right.
"We would encourage people to look out for signs of illegal cannabis factories, including blacked out windows and people coming and going at various times of the day."
The force's 'Stay In, Speak Out' campaign encourages residents, who are staying at home because of the Coronavirus pandemic, to report any concerns or suspicious behaviour in their community.