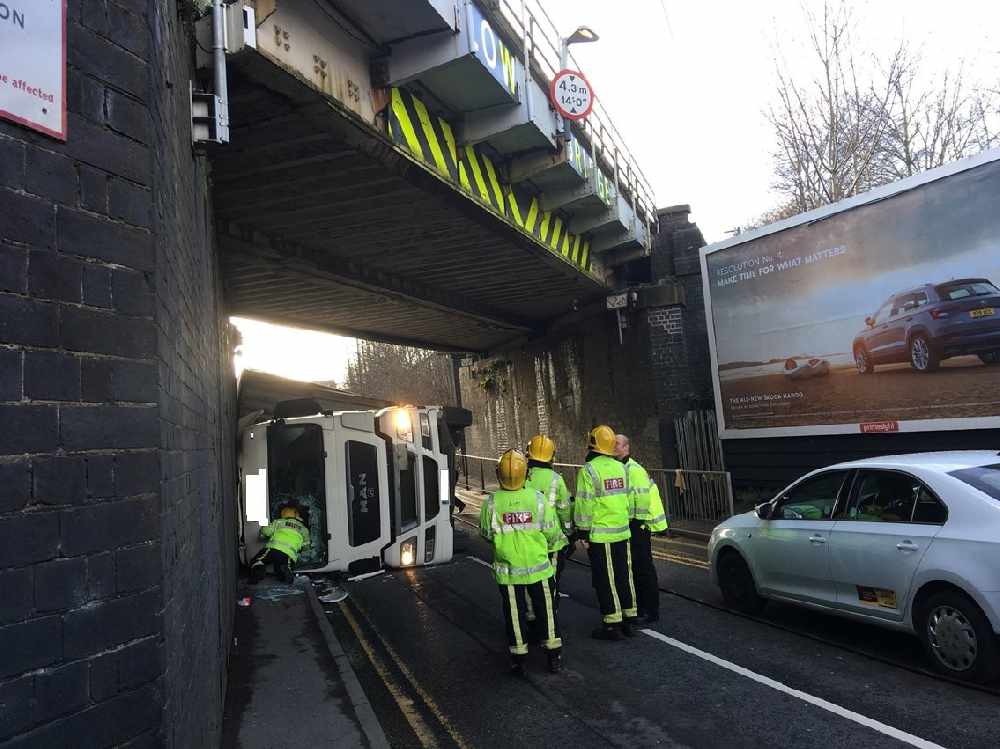 According to Network Rail the county has two entries in their new top ten.
Figures show railway bridges are struck by lorries five times every day on average across Britain, causing almost half a million minutes of delays for rail passengers.
The Watling Street bridge on the A5 in Hinckley, Leicestershire, has the unenviable title of Britain's most-bashed bridge after being struck 25 times in the last year, causing unnecessary delays and safety risks for rail passengers, motorists and locals.
The fourth most-struck bridge on the list was in Cambridgeshire. The Stuntney Road bridge in Ely was hit 19 times and just across the Fens was the ninth most-struck bridge - Stonea Road bridge, bashed 13 strikes in one year.
The problem is one which blights people across Britain, with bridges in Norfolk, Scotland, Middlesex, Wiltshire, Staffordshire, Hertfordshire, London, Somerset, West Midlands and Lancashire all making the 20 most-struck list.
Though there has been a 11% decrease in incidents in the last financial year (April 1 2019 - March 31 2020), bridge strikes remain a dangerous and costly concern.
Sir Peter Hendy CBE, chair of Network Rail said: "We've done a lot of work with partners across the industry in recent years to tackle bridge strikes, and whilst it's encouraging to see our work is paying off with numbers now on the decline, there's a lot more to be done to cut the unnecessary delays, costs and safety risks they pose.
Throughout this period, reminders to 'Wise Up, Size Up' will feature on petrol pumps at motorway service stations across Britain along with posters, reminding drivers to check their routes before setting off."
Most bashed railway bridges in Britain 2019/20:
1. Watling Street Hinckley, Leicestershire 25 strikes
2. Bromford Road Dudley, West Midlands 24 strikes
3. St John's Street Lichfield, Staffordshire 23 strikes
4. Stuntney Road Ely, Cambridgeshire 19 strikes
5. Abbey Farm Thetford, Norfolk 16 strikes
6. Thurlow Park Road Tulse Hill, London 14 strikes
7. Carlisle Road Cleland, North Lanarkshire 13 strikes
8. Harlaxton Road Grantham, Lincolnshire 13 strikes
9. Stonea Road Stonea, Cambridgeshire 13 strikes
10. Coddenham Road Needham Market, Suffolk 11 strikes
11. Lower Downs Road Wimbledon, London 11 strikes
12. Warminster Road Wilton, Wiltshire 10 strikes
13. Prescott Street Wigan, Greater Manchester 10 strikes
14. Greenhills Road Paisley, Renfrewshire 9 strikes
15. Newhouse Road South Ruislip, London 9 strikes
16. Kenworthy Road Homerton, London 9 strikes
17. St John's Road Isleworth, London 9 strikes
18. Jews Lane Twerton, Somerset 9 strikes
19. Barrowby Road Grantham, Lincolnshire 8 strikes
20. Cambridge Road Hitchin, Hertfordshire 8 strikes