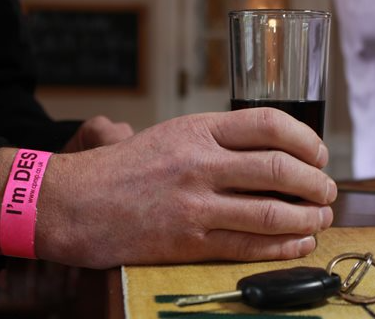 More than 45 pubs and venues across the county have signed up to support campaign to crackdown on drink drivers this month.
As part of the campaign the police are promoting the 'I'm DES' scheme where participating venues give free draught soft drinks to designated drivers.
The initiative, led by the Cambridgeshire and Peterborough Road Safety Partnership (CPRSP), will aim to reduce the number of road traffic collisions caused by drink driving during the festive period.
A total of 46 venues have signed up to the scheme this year – more than triple the number of venues compared to last year.
To participate in the scheme, which runs throughout December, people need to let staff in participating venues know they are the designated driver and ask for an 'I'm DES' wristband from a member of staff.
Jon Morris, casualty reduction officer at Cambridgeshire Constabulary, said: "We're pleased to see so many pubs and venues supporting the 'I'm DES' campaign this year.
"Even a small amount of alcohol can affect your driving ability. We advise if you're drinking, even if you have just one drink, arrange another way of getting home."
To enforce the campaign, officers across the Bedfordshire, Cambridgeshire and Hertfordshire Road Policing Unit (RPU) will be conducting additional stop-checks throughout December to combat drink and drug drivers.
Participating venues are:
Cambridge
Ballare, Cambridge
Hidden Rooms, Cambridge
La Raza, Cambridge
Tabouche, Cambridge
Revolution, Cambridge
Lola Lo, Cambridge
The Anchor, Cambridge
The Granta, Cambridge
Fez Club, Cambridge
Vinyl, Cambridge
Novi, Cambridge
Sir Isaac Newton, Cambridge
The Alexandra Arms, Cambridge
The Portland Arms, Cambridge
South Cambridgeshire
The Hub Community Centre, Great Cambourne
Willingham Social Club, Willingham
The Chequers, Pampisford
East Cambridgeshire
The Fox, Burwell
The Shed, Lode
The Beeches Community Centre, Isleham, Ely
Habis Café Bar and Restaurant, Littleport
Ely City Golf Club, Ely
Ye Olde School Bell, Little Downham
The Bell, Kennett, Newmarket
Huntingdonshire
The Greystones, Sawtry, Huntingdon
The Pig N Falcon, St Neots
The Eltisley, Eltisley, St Neots
The Axe and Compass, Hemingford Abbots, Huntingdon
Samuel Pepys pub, Huntingdon
The Lounge, St Ives
Cromwells, Huntingdon
Fenland
GER Sports Club, March
The Angel Inn, Wisbech
The King's Head, Wisbech
The Three Tins, Wisbech
The Red Lion, March
The Ship Inn, March
Cassanos, March