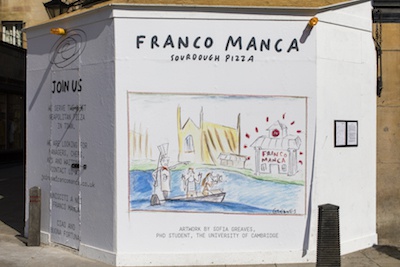 Sourdough pizza pioneer, Franco Manca has announced the launch of its Cambridge pizzeria. Bringing Neapolitan pizza to the city of Cambridge, the much-loved pizza provider has celebrated its arrival by collaborating with local talent, Sofia Greaves.
A student studying a PhD in Classics at the prestigious University of Cambridge, Sofia was crowned the winner of Franco Manca's illustrator competition earlier this year, the result of which sees her artwork adorn the hoarding of the latest addition to Cambridge's restaurant-scene.
To celebrate the pizzeria's opening and Sofia's illustrations, which were inspired by the wonderful culture and heritage of Cambridge itself, from 11th – 17th July 2018 inclusive Franco Manca will be offering all their delicious sourdough pizzas for just £5.00 – the price of the first pizza on their menu.
Customers will be able to order one of the daily specials or choose from seven regular pizza options, including fan-favourite "the no. 4", which features Gloucester old spot ham, wild mushrooms and a mix of mozzarella and buffalo ricotta.
Embracing local Cambridge talents further, pizza-lovers visiting Franco Manca will also be able to accompany their meal with one of two guest beers. Produced by BrewBoard, a young Cambridge-based independent craft brewer, the company's RIPCHORD (a light-gold, multi-hopped Session Pale Ale) and LAKOTA (a light-straw, dry-hopped American Pale Ale) will be available for customers to enjoy.
With fresh sourdough handmade on site every day, Franco Manca was the first pizzeria to offer sourdough pizza in the UK. Located at 15 Market Hill, Cambridge, CB2 3NJ, the new pizzeria will open its doors and pizza ovens to Cambridge locals on Wednesday 11th July 2018.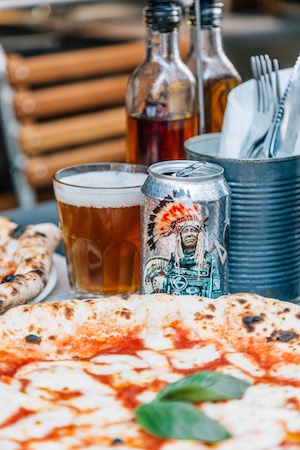 The slow-rising sourdough unique to Franco Manca dates back to the late 18th century. First procured by the pizzeria's founder, Giuseppe Mascoli, near his hometown of Naples, Franco Manca's sourdough recipe still honours the ingredients and methods that make the age-old style of Neapolitan pizza so delicious and satisfying.
Valentino Orestano, Franco Manca's Cambridge Head Pizzaiolo, said:
"Franco Manca is so excited to share our delicious Neapolitan sourdough pizzas with the residents of Cambridge. Better yet, we're thrilled to celebrate our arrival by collaborating with some of Cambridge's finest talents. Decorated with the amazing artwork of local student, Sofia, stocked with the quality products of local craft brewer, Brewboard and offering the best sourdough pizzas for the great value of just £5.00 – for these reasons and more, our opening week is set to be one to remember!"
As part of Franco Manca's continued commitment to supporting local charities, homeless shelters and food banks, they are donating freshly baked sourdough bread made from the day's excess dough to all suitable NGO organisations local to their pizzerias. Any such organisation working in Cambridge interested in donations should contact the Franco Manca pizzeria directly.