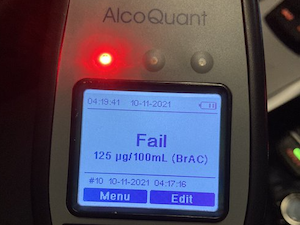 A man has been jailed the day after he was caught with cans of beer in his van and found to be more than three times the legal drink drive limit.  
Serial drink driver David Morrison, 32, was pulled over by officers from the Beds, Cambs and Herts (BCH) Road Policing Unit at just after 4am on Wednesday (10 November).

He was spotted driving a Ford Transit in Milton Road, Cambridge, and only stopped because the vehicle was showing as having no tax or MOT.

Morrison got out the van and was obviously drunk, slurring his words heavily and very unsteady on his feet.

He was asked to do a roadside breath test and provided a reading of 125microgrammes of alcohol in 100ml of breath – more than three times the legal limit of 35microgrammes.

Morrison was arrested on suspicion of drink driving and taken to a police station where two further evidential breath tests, at 5.30am, provided readings of 97mirogrammes and 93microgrammes of alcohol in 100ml of breath.

Checks also showed Morrison, of Vulcan Place, Bedington, Northumberland, had no insurance and was disqualified from driving until January 2024.

In police interview Morrison answered 'no comment' to all questions but later pleaded guilty to drink driving, driving whilst disqualified, driving without insurance and driving without MOT.

He was sentenced at Huntingdon Magistrates' Court where he was handed five months in prison and disqualified from driving for four years.