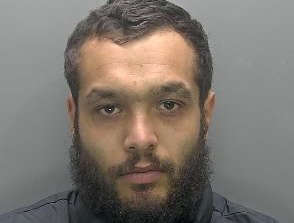 A prolific thief who went on a crime spree breaking into cars, shoplifting and burgling has been jailed.
Kyle Beaumont, 25, of Alec Rolph Close, Fulbourn, committed the offences between December 2021 and August 2023 in Bar Hill, Northstowe, Longstanton, Ely and Cambridge.
The latest offences took place on 5 August when just before 1am he rode a lady's bicycle into the front door of Mace Store on Green End Road, Cambridge and appeared to view the CCTV camera before riding off.
Shortly after, at 1.07am, he is captured on CCTV cycling up to the front of Nisa, also on Green End Road. He removes a D lock from the basket and hits the front door three times before getting back on the bike and leaving.
At 1.52am a member of the public reported a break-in at the Post Office on High Street, Chesterton.
Officers searched the area using the descriptions given and arrested him after a short chase garden hopping.
CCTV footage from inside the Post Office showed Beaumont taking items including alcohol and confectionary worth £500 from inside.
At Huntingdon Law Courts on 6 September, Beaumont was sentenced to two years and four months in prison after pleading guilty to burglary and two counts of attempted burglary.
He also pleaded guilty to two counts of public order offences, assault by beating, seven counts of theft from a shop, seven counts of theft from a motor vehicle, two attempted thefts from a motor vehicle, vehicle interference, possession of cocaine and failing to surrender.
Detective Inspector Gordon Blair said: "Beaumont is a prolific criminal who has caused misery to so many people with his offending.
"We hope this sentence will give him the opportunity to consider the consequences of his actions while also providing his victims reassurance that justice has been served."