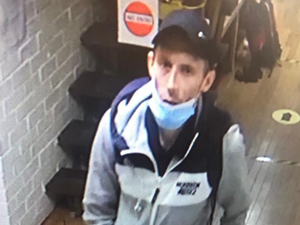 A prolific criminal from Peterborough who was jailed for nine months last year has had 24 weeks added to his sentence after admitting stealing an Audi A1 from a sports club.
Lee Edwards, 35, stole a set of car keys from inside the Peterborough Town Sports Club in Bretton while the victim was playing squash on 8 September last year (2020).
He used the keys to unlock a white Audi A1 before driving off in it, along with more than £1,000 worth of sports equipment and a purse which was inside.
Unbeknown to him, he had been caught on the club's CCTV cameras stealing the keys and the vehicle.
Three days later, on 11 September, the Audi was located parked up in Woodston just around the corner from the home of one of Edwards' family members.
A couple of weeks later, on 1 October, police officers who manage Edwards as a prolific offender for offences including burglary and theft, spotted him in Queens Walk, Woodston, on a bicycle.
They flagged him down to have a chat with him however he tried to make off but fell off his bike, then tried to run away but was detained by the team.
Suspecting he had something to hide due to how he reacted to their presence, Edwards was searched and found to be in possession of items used in connection with theft; bolt croppers, vise-grip wire cutters and gloves.
Officers also found a combat knife with a 12-inch blade on him, as well as class B drugs.
Edwards was found to be wearing the same distinctive blue, white and grey hoody seen in CCTV footage of the theft at the sports club the previous month.
He was later charged with possession of a knife in a public place, going equipped for theft, possession of cannabis and amphetamine, non-dwelling burglary and taking a vehicle without the owner's consent, all of which he admitted apart from the latter two offences.
On 13 November Edwards was sentenced to 40 weeks in prison and faced trial for the remaining offences, however he later changed his pleas and on Wednesday (31 March) he appeared at Peterborough Crown Court where he was sentenced to a further 24 weeks in prison, taking his total sentence to one year and 12 weeks.