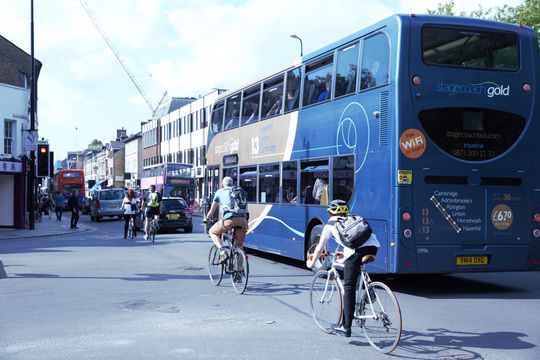 The Greater Cambridge Partnership's Making Connections public consultation sets out ambitious plans to transform public transport, including a future bus network which would deliver faster, frequent and reliable bus services with cheaper fares.
The proposals, which are out to consultation until 20 December, include:

- Services running from 5am until midnight, with frequent buses to key destinations.
- More frequent services between 7am and 7pm, with buses every few minutes in the city, every 10 minutes from towns and larger villages, and hourly in rural areas.
- Express and direct services to the city centre, Cambridge Biomedical Campus, Cambridge Science Park and West Cambridge, and links to local rail stations.
- Small villages will have opportunities to 'plug into' the network through a regular connecting bus service, a demand responsive bus service, or access to a travel hub.
- Cheaper fares, such as a flat rate for trips in the city, daily and weekly tickets for regular users, hopper tickets, and cheaper family fares.
More zero emission buses, building on the successful bid for 30 new electric buses coming to Cambridge next year.
A transformed bus network could cost up to £40m per year and people are asked to consider how to both reduce congestion and raise funds to support such a network – including measures such as some form of charge for driving or parking within the city

0 Encouraging more people to take affordable and accessible public transport would help to cut congestion and improve air quality, leading to improved health and lower carbon emissions.

Cllr Elisa Meschini, Chair of the GCP's Executive Board, said: "Greater Cambridge faces a real challenge - to keep people moving while cutting congestion and pollution. We want to transform the bus network so people can use more services, running longer hours, with cheaper fares, bringing far better access to opportunities and sustainable choices in how they get around.
Plans to significantly improve bus and active travel journeys along Newmarket Road - part of the GCP's Cambridge Eastern Access project - are also out to public consultation.

Hundreds of people have already provided feedback on options for Newmarket Road, including the addition of new cycle lanes and bus lanes, new priority-controlled roundabouts and the potential relocation of the Newmarket Road Park & Ride.

The A1303 is a key route to the east of Cambridge which suffers from significant congestion with plans for development to the north of Cherry Hinton and the Marshall's site being included in the first proposal of the Greater Cambridge Local Plan.

The Making Connections public consultation closes at midday on Monday 20 December. The Cambridge Eastern Access public consultation closes at midday on Wednesday 22 December.
​