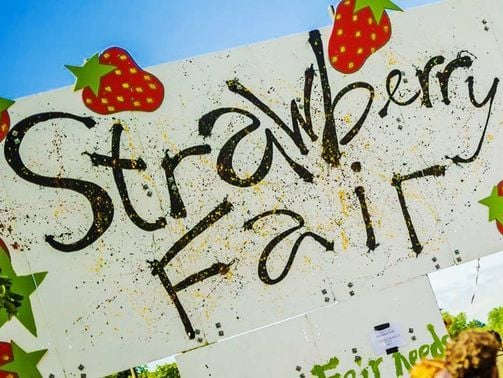 Strawberry Fair takes place on the first Saturday of June on Midsummer Common.
Cambridge's most iconic festival returns to the city this weekend - but how did it all start? We donned our best investigative poncho to find out.
Cambridge, as an historic city rich in culture, has - as you'd expect - hosted many fairs and fetes over the years. Back in the 13th Century, Stourbridge Fair would go on to become the largest in Europe and Midsummer Fair has been held on Midsummer Common since the days of King Henry III.
So how did Strawberry Fair, once branded "an odd mix of a stonehenge-type hippy fair with the atmosphere of a village fete" become the city's best known event?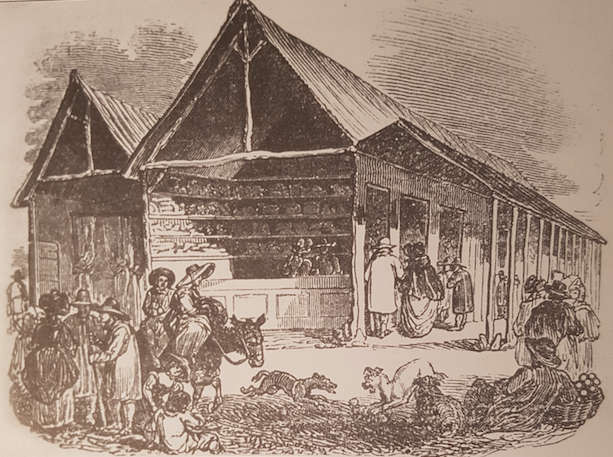 Depiction of Stourbridge Fair in 1832.
As you'd expect, it all happened in a typically 'Cambridge' way. In 1974, a group of University students decided to ride their wave of fame by hosting a one day festival on the common, having gained publicity for fielding a candidate in the General Election of that year! It was such a success that, rather than waiting to do it the following year, they did it all over again just a few weeks later as an antidote to the college's May Balls which were being held at the same time. This second gathering was called 'Strawberry Fair' (we're still not completely sure why) and that was that. In 1975 the festival returned, and crowds had swollen to 2,000. In 1976, despite things not going to plan (financial struggles and a stage that never arrived) the true spirit of Strawberry Fair was in full view as bands simply set up on the grass and played regardless!
As the 1980s arrived, a time of acute political awareness and new wave music, Strawberry Fair embraced the mood by increasing the number of stages, supporting the Campaign for Nuclear Disarmament and providing space for a number of local and national charities. The 80s gave way to the 90s, when crowds would top regularly top 50,000.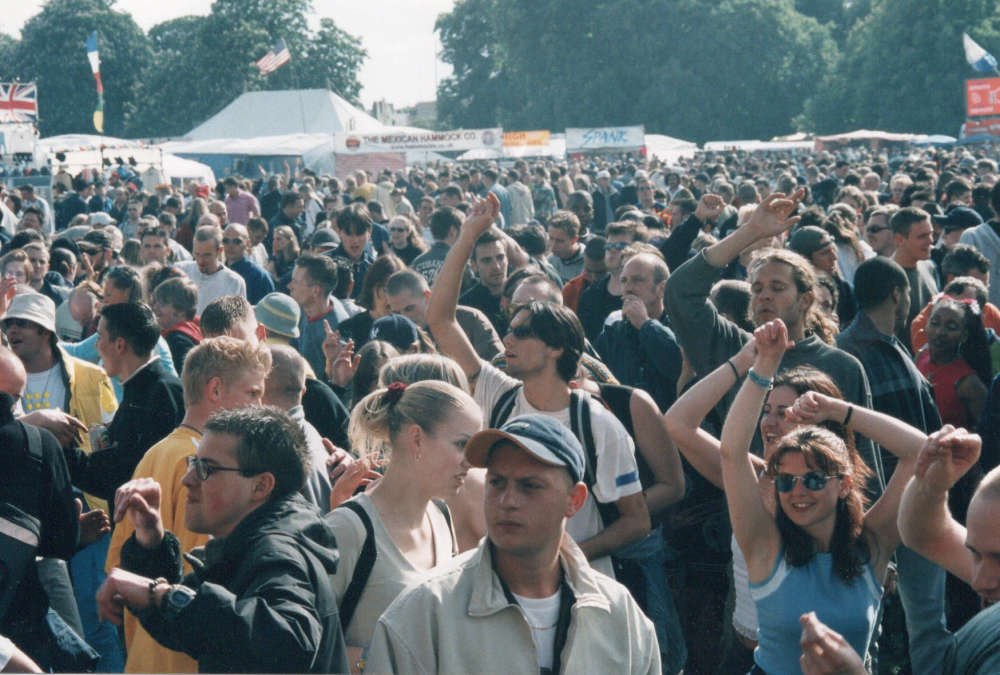 The challenges for Strawberry Fair have been numerous; it now costs over £100,000 to host (a 1,500% increase in 35 years). In 2010, Cambridgeshire Constabulary appealed the fair's license and organisers decided not to hold the event. It returned in 2011 with a new layout and a new emphasis on children and young people. The event was cancelled in 2020 and 2021 due to the COVID-19 pandemic and returned in 2022 a week later so as not to clash with Queen Elizabeth II's Platinum Jubilee.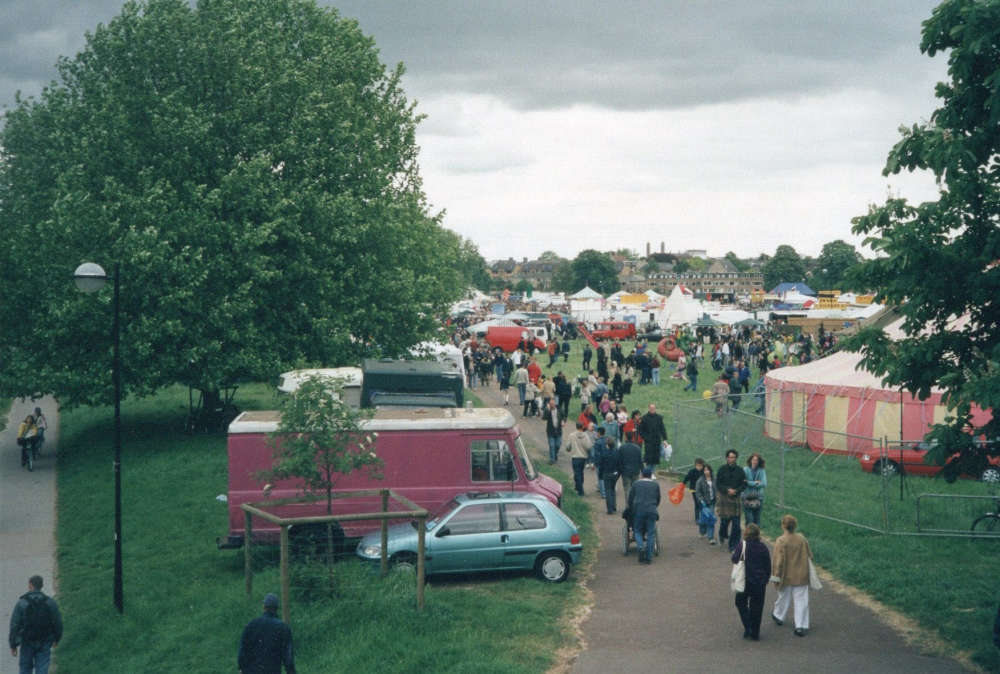 View from Victoria Avenue - Strawberry Fair 2002.
Cambridge has now enjoyed 45 years of Strawberry Fair and the organiser's mission is clear: with our continuing support it will still be here in another 45 offering a day of live music and entertainment, provided free of charge by the people of Cambridge FOR the people of Cambridge.
Timings for the Day
10.30 - Meet on Christ's Pieces for the Parade
11:00 - Parade sets off from Christ's Pieces and sets off around Cambridge.
12:00 - Parade arrives at Midsummer Common marking the official opening of the Fair.
12:00 - Stages, bars and area entertainment begins.
18:00 - Kid's Area closes.
22:00-22:30 - Stages and area entertainment closes. Head to the Rebel Love Stage.
22:30 - Stall holders and bars close.
22:30 - Closing Finale at Rebel Love Stage.
23:00 - Event closes.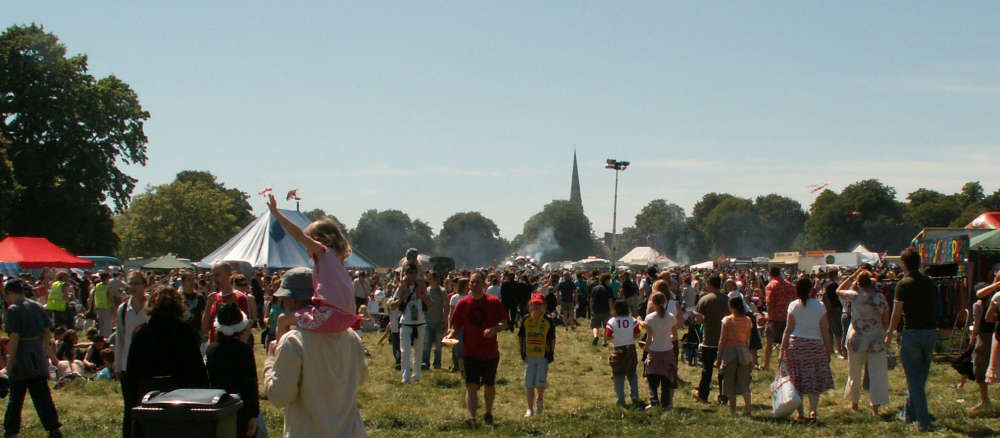 Strawberry Fair 2006.