Discover Jersey - Food and Drink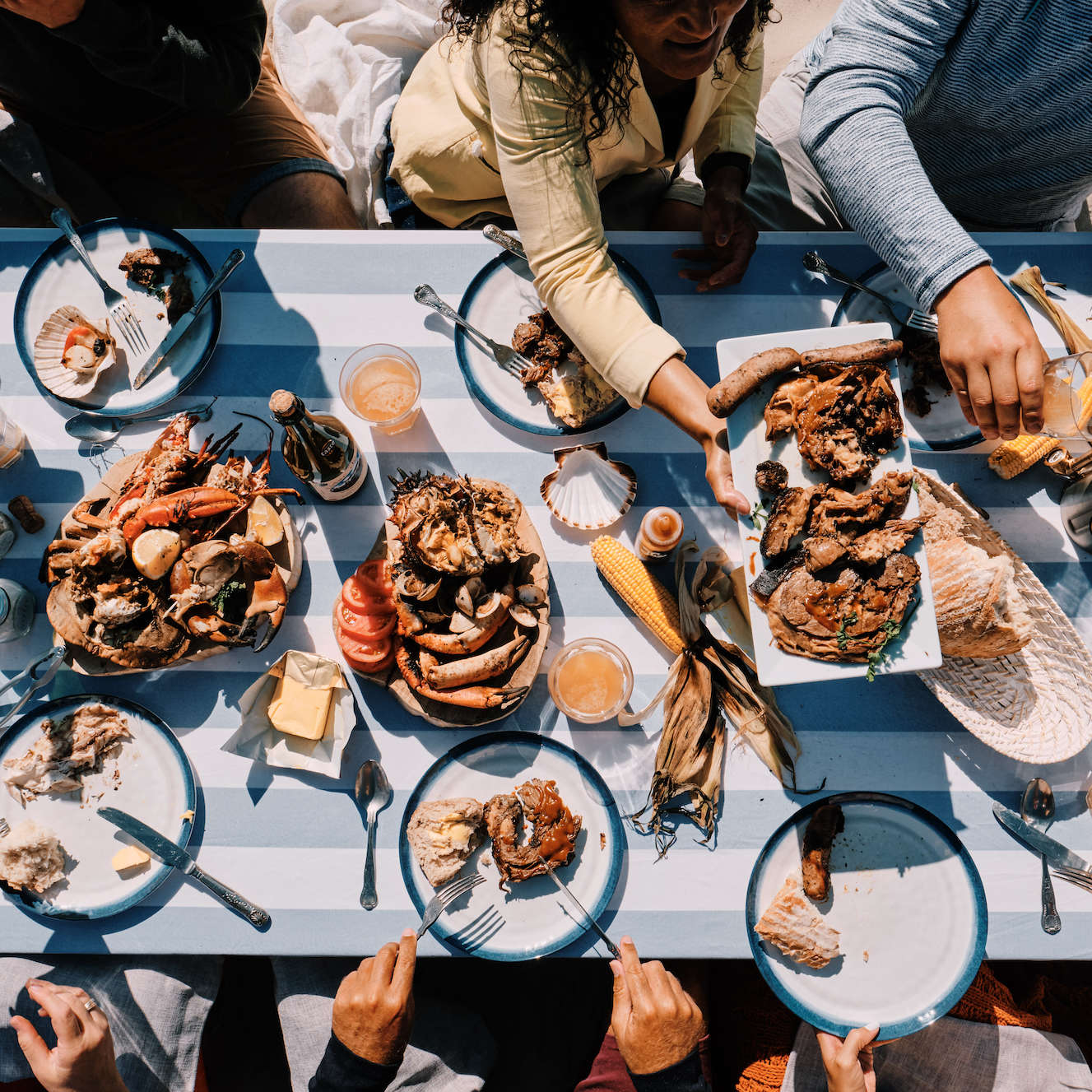 A food and drink guide to Jersey
When you think of Jersey - think potatoes, cream, seafood, gastro pubs, countryside picnics – this place is all about the food. Yum. And it really revolves around its own homegrown grub. Let the wining and dining commence with our handy guide of what to eat and drink in Jersey…
Jersey Royals
The crème de la crème of potatoes.
Roasted, crushed with garlic and herbs, tossed through a salad or served as simple side with a blob of butter and a sprinkle of sea salt – these potatoes are something else. They're famed for their soft, flaky skins and nutty flavour, so it's no wonder they're a protected product.
Seafood
Super-fresh, salty and one-of-a-kind
You're in luck here if you're a fish fan. And we're talking extra-special delicacies like lobster, oysters and spider crab, which pop up on most chalkboard specials. Feeling adventurous? Look out for the more unusual coastal treats of ormers and conger eels.
Black butter
Sticky apple spread for bread
Butter by name but not by nature - this speciality comes from a tradition of using up leftover cider apples from the autumn's harvest. It's a farmhouse spread spiced with cinnamon and liquorice, and you can pick up a jar in any good deli. Spread lashings of the stuff on toast, bread or scones – delish.
Jersey bean crock
French-style stew
A mixture of beans and pork make up this cassoulet-style classic and it's cooked low and slow overnight for a deep, rich flavour. Dunk in some crusty cabbage loaf (bread cooked between cabbage leaves) with lots of local butter for a hearty, wholesome finish to the dish.
Wine
Very fine vino
Tucked away in a quiet corner of the island's north coast, La Mare Wine Estate is the island's only vineyard. Making the most of Jersey's glorious sunshine and fertile soil, this place produces some fine wine, from white and fizzy varieties though to a summery rosé and rich red.
Real ale
The great pub pint
Clinking pints in cosy pubs is a big deal here, which is why Jersey has its fair share of CAMRA pubs, mircopubs and craft beer bars. There's a real ale trail you can follow and a handful of breweries showing off the homegrown trend – make sure you check the labels for local when it's your round.
Cider
Homage to an apple-growing heritage
The traditional process for Jersey cider is much like it is in neighbouring France, where a vintage press uses nothing but apples to create a fine, delicate fizz. Keep your eyes peeled for the local stuff in pubs, restaurants and shops.
Well if that little lot has whet your appetite, why not jet off to Jersey this summer with Jet2holidays direct from London Stansted?
Jet2holidays to Jersey start with a low £60pp deposit*, with 22kg baggage, 10kg hand luggage, your choice of 2 to 5-star accommodation and return transfers included in one ABTA & ATOL-protected package. Just fancy flights? Check out sister company Jet2.com's friendly low fares.
*T&Cs apply. See www.Jet2holidays.com for full details.