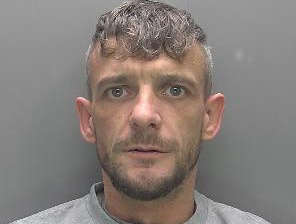 A man drove dangerously, including on the wrong side of Newmarket Road in Cambridge, to escape police who had tried to stop him for having expired road tax.
Kevin McAllister, 38, was stopped in his white Ford Transit Tipper by officers at the BP filling station, in Newmarket Road at about 11.30am on 4 May last year.
As one of the officers tried to speak to him, McAllister sped off from the forecourt and drove towards the roundabout with Airport Way.
McAllister drove around the roundabout the wrong way and back down Newmarket Road.
He drove on the wrong side of the keep-left bollards and in the bus lane in the middle of the road before turning into the park and ride site.
McAllister drove the wrong way around the roundabout there and also turned the wrong way down a one-way section to avoid a height barrier.
He abandoned the van in the eastern corner of the park and ride site and tried to escape on a footpath where officers arrested him.
McAllister refused to identify himself and also refused to take a drugs wipe test.
At Huntingdon Law Courts, McAllister, of Pine Lane, Cottenham, was jailed for 17 months, having pleaded guilty to dangerous driving and driving while disqualified.
PC Andy Coop said: "McAllister drove with no thought or consideration for anyone else that day, when all we wanted to speak to him about was the expired vehicle excise duty on his van.
"It turns out he was also disqualified and had no insurance so was a complete and utter danger to others."