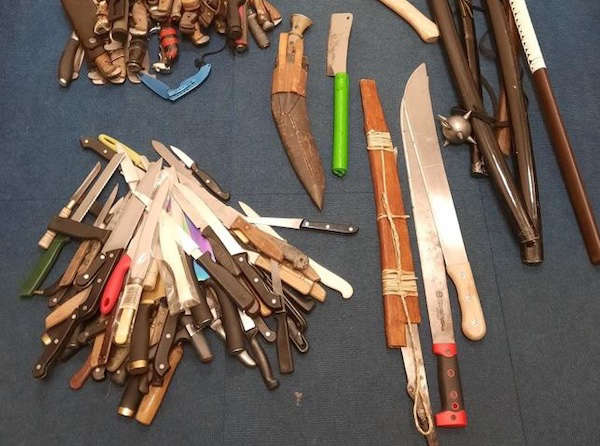 More than 270 weapons including large knives, knuckle dusters and swords were handed in to police last week as part of a countywide amnesty.
The items were surrendered at amnesty bins in and Cambridge and Peterborough as well as at events in Cambourne, Sawston, Histon and Ely.
Some of the 272 weapons are illegal to own due to changes to the Offensive Weapons Act banning items such as knuckledusters, extendable batons, curved swords and zombie knives. Even if kept on private property.
As well as the amnesty, officers visited numerous schools across the county, took part in extra patrols in hotspot areas and conducted weapons sweeps in an effort to locate any hidden items in public spaces.
The week-long initiative is part of 'Operation Guardian' – the Constabulary's ongoing strategy to combat knife crime in the county.
In the last year possession of knife offences increased in Cambridgeshire by six per cent.
Where knives are concerned, it is illegal to:
- sell a knife of any kind to anyone under 18 years old.
- carry a knife in public without good reason - unless it's a knife with a folding blade 3 inches long (7.62 cm) or less, eg a Swiss Army knife
- carry, buy or sell any type of banned knife
- use any knife in a threatening way (even a legal knife, such as a Swiss Army knife)
The maximum penalty for an adult carrying a knife is four years in prison and a fine of £5,000.