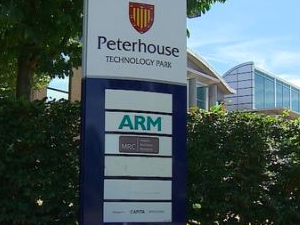 The Cambridge-based tech giant Arm Holdings is to be sold to America's Nvidia in a deal worth up to £31 billion.
The new owner says the company - which licences its chip designs for use in many smart phones - will remain based in Cambridge and its site expanded.
Arm was bought four years ago by the Japanese conglomerate Softbank.
"AI is the most powerful technology force of our time and has launched a new wave of computing," said . "In the years ahead, trillions of computers running AI will create a new internet-of-things that is thousands of times larger than today's internet-of-people. Our combination will create a company fabulously positioned for the age of AI.
"Simon Segars and his team at Arm have built an extraordinary company that is contributing to nearly every technology market in the world. Uniting NVIDIA's AI computing capabilities with the vast ecosystem of Arm's CPU, we can advance computing from the cloud, smartphones, PCs, self-driving cars and robotics, to edge IoT, and expand AI computing to every corner of the globe.
"This combination has tremendous benefits for both companies, our customers, and the industry. For Arm's ecosystem, the combination will turbocharge Arm's R&D capacity and expand its IP portfolio with NVIDIA's world-leading GPU and AI technology.
Jensen Huang, founder and CEO of NVIDIA said: "Arm will remain headquartered in Cambridge. We will expand on this great site and build a world-class AI research facility, supporting developments in healthcare, life sciences, robotics, self-driving cars and other fields.
"And, to attract researchers and scientists from the U.K. and around the world to conduct groundbreaking work, NVIDIA will build a state-of-the-art AI supercomputer, powered by Arm CPUs. Arm Cambridge will be a world-class technology center."
But Arm co-founder, Hermann Hauser, has described this latest sale as a disaster, and said it could now fall under American regulations with key decisions relating to the company's future now being in the hands of the White House rather than Downing Street.