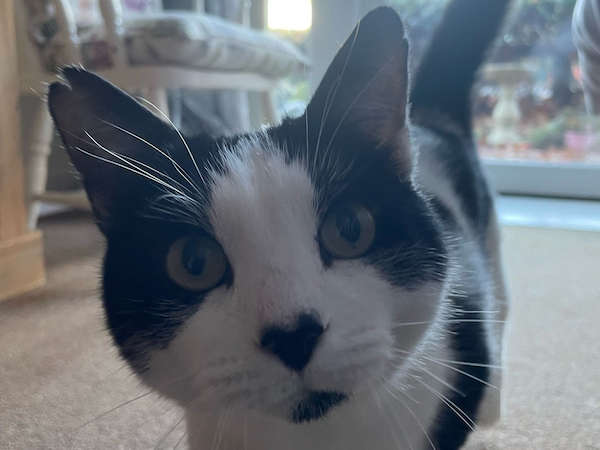 Sadly poor Pickle could not recover from his injuries
The RSPCA is appealing for information after a beloved family pet was shot in Soham.
Sweet Pickle, aged three was found on Friday 25 February, by a workman in a hedge beyond the back of the family's flat in Lode Close, Soham.
The family had been desperately searching for Pickle who went missing on Monday February 20, after being scared away by some noises. They had checked the area under the hedge and he had not been there earlier in the week.
His worried owners had been out searching for him as he would never normally venture far, and put leaflets through people's doors in the hope of finding their beloved cat.
When Pickle was found it was clear he was very poorly and he couldn't use his back end and was unable to stand; the family initially thought he may have been hit by a car.
They rushed him to their vets who then referred him to a specialist vets after x-rays revealed the poor Pickle had been shot in the stomach and leg and he also had a bruised tongue and evidence of trauma to head with scleral hemorrhage to the left eye and bruising around the ear.
Pickle was given an MRI scan which sadly revealed that his spinal cord was damaged and during the spinal surgery it was found the spine was severed and that he'd never be able to walk or go to the toilet again.
The family then had to make the heart-breaking decision for him to be put to sleep to end his suffering as nothing more could be done to save him.
The family said they are absolutely "heartbroken, devastated, overwhelmed and totally appalled" by what's happened. And said they found it "incomprehensible" what their sweet little cat went through.
RSPCA animal rescue officer David Allen said: "It is devastating to hear what happened to poor Pickle and our hearts go out to his owners.
"This was a callous and cruel attack on a helpless and defenseless animal and I am horrified by what has happened.
'The family said the fear and pain he must have felt made them feel sick to their stomach and the family want to make as many people aware as possible.
"We are investigating this and would urge anyone with information to call the inspectorate appeal line on 0300 123 8018 quoting incident 01034179 or the police."