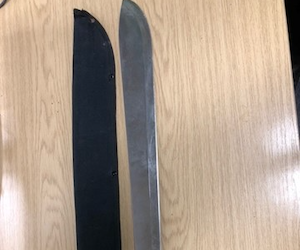 Damian Garner, 43, was walking on a footpath near River Lane in Peterborough at just after midnight on 14 December when he was approached by two officers who had been called to reports of a disturbance on a nearby boat.
Garner, of Princes Street, Peterborough, admitted he had a weapon, before revealing the machete tucked into his waistband and placing it on the ground.
Garner was jailed for seven months at Peterborough Crown Court, having pleaded guilty to possession of a bladed article in public at a previous hearing.
PC Patrick Meadows said: "There is absolutely no excuse for carrying a weapon like this in public.
"The fact that Garner was jailed simply for having this in his possession shows how seriously the courts take this issue."