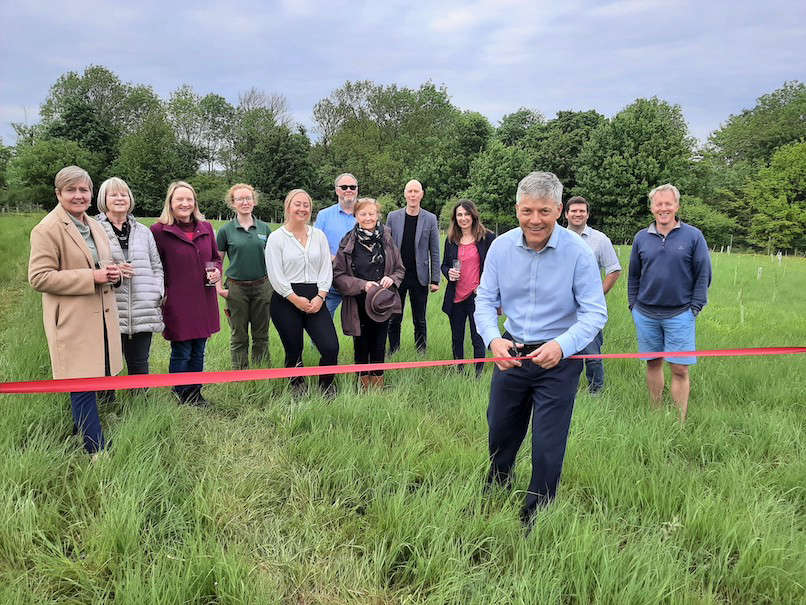 A new woodland has been opened to the public on the western edge of Cambridge.
The five-acre woodland is between the villages of Coton and Madingley and the 200 metres of new path connects a public footpath between Coton and Girton. Over the winter volunteers helped to plant 1,500 trees on what was previously a horse pasture.
Professor David Coomes, a trustee for the charity Cambridge Past, Present & Future has planted a woodland and created a new permissive path through it. The path and woodland were opened to the public at a ribbon cutting ceremony.
The initiative is part of the Cambridge Nature Network, which is a vision is for significant areas of downland, fens, meadows and woodlands, where nature can recover and thrive and where people can experience a wilder countryside and nature on their doorstep. Natural England has provided funding towards the costs of the tree planting and new path, as part of its support for the Cambridge Nature Network.
Cambridge Past, Present & Future is a local independent charity that works to protect the amenities, green spaces, historic buildings, character and setting of Cambridge and its neighbourhood for the benefit of the public.
It also runs Wandlebury Country Park, Coton Countryside Reserve, Cambridge Leper Chapel, Bourn Windmill and Hinxton Watermill.