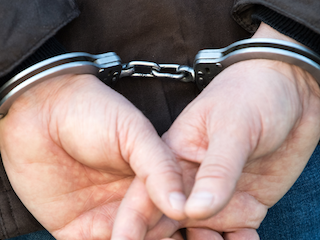 A shoplifter who plagued businesses in Cambridge for nine months - even stealing from a church – has been jailed for more than two years.
Andrew Corker, 46, stole everything from salmon to coffee machines and was prepared to threaten staff with a knife to get away.
The spree started in May last year when he stole packets of salmon from Sainsbury's, in Mill Road, and continued as he targeted five different shops, stealing items including perfume, a coffee machine and electric toothbrushes.
On each occasion he was captured on CCTV entering and walking out without paying.
Then on 3 February this year, Corker entered St Laurence's Catholic Church, in Milton Road, Cambridge. He was seen walking around for a while before picking up a Yamaha keyboard worth £1000 and walking out with it. Once again, he was captured on CCTV.
On 22 February, Corker entered Sainsbury's, in Brooks Road, and attempted to steal four bottles of brandy. Store security tried to prevent him walking out without paying, but he pulled out a flip knife from his pocked and thrust it towards the guard's chest before breaking free and running away.
Corker, of not fixed abode, was arrested and offered no comment during interview. He later pleaded guilty to seven counts of shoplifting, one of theft by walk-in (sneak-in), possessing a blade, and threatening a person with a blade in a public place. He was sentenced to two years and one month in prison at Peterborough Crown Court on Friday (2 June).
PC Ryan Parker, who investigated, said: "Corker is a prolific offender who unleashed misery on the Cambridge retail industry.
"He showed no signs of stopping and no remorse for his actions.
"People often think of shoplifting as a victimless crime, but it can have a huge impact on both businesses and their employees and it often comes hand-in-hand with other crimes.
"I hope the sentence will provide reassurance to businesses and members of the public, as well as a warning for other offenders who think shops are easy targets."