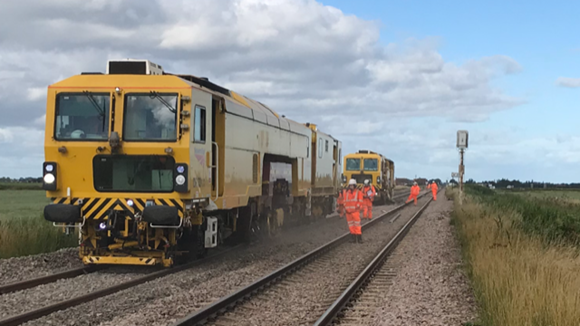 The work will start on the line between Ipswich and Ely on Sunday 7 August and will take place every weekend until Saturday 10 and Sunday 11 September.
During this time, plain line track work will take place at Elmswell level crossing. Track renewal is important to prevent issues that cause speed restrictions and delays. Replacing worn track will keep services running safely and reliably.
Work will also be carried out as part of the Cambridge resignalling programme. Signalling systems are essential to the safe and efficient operation of the railway. The Cambridge re-signalling, re-lock and re-control project (C3R) aims to deliver state-of-the-art signalling technology for the railway which means better reliability and reduced maintenance, while providing a platform ready for digital technologies such as the European Train Control System (ETCS).
Work will then take place on the line between Norwich and Peterborough to carry out level crossing upgrade works on three weekends from Saturday 10 and Sunday 11 to Saturday 24 and Sunday 25 September. The upgrade will improve safety, reliability for years to come.
Passengers are advised to check before they travel. A rail replacement bus service will be in operation.
People travelling to Newmarket Races on Saturday 13 and Saturday 27 August from Ipswich and other stations on the Ipswich-Cambridge line, will need to catch a bus to Cambridge and then catch a shuttle train between Cambridge and Newmarket. Buses will not call at Newmarket.
Race goers are advised that the bus and shuttle train service will only operate between 07.30 and 19.50 on Saturday 13 August and between 07.55 and 22.20 on Saturday 27 August and is likely to be very busy. It is not possible to run a full replacement bus service for the Newmarket races due to a shortage of buses and other operational reasons on Saturday 13 and Saturday 27 August.
Passengers are advised to check how their journey will be affected at www.nationalrail.co.uk or with their train operator.
Rail replacement services will run on the following dates. Passengers are advised to check before they travel.
Sunday 7 August - Stowmarket and Ely/Cambridge
Saturday 13 and Sunday 14 August - Stowmarket and Ely/Cambridge
Saturday 13 August for Newmarket Races - Bus Ipswich-Cambridge and train Cambridge-Newmarket
Saturday 20 and Sunday 21 August - Stowmarket and Ely/Cambridge
Saturday 27 and Sunday 28 and Monday 29 August - Stowmarket and Ely/Cambridge
Saturday 27 August for Newmarket Races - Bus Ipswich-Cambridge and train Cambridge-Newmarket
Saturday 3 and Sunday 4 September - Stowmarket and Ely/Cambridge
Saturday 10 and Sunday 11 September - Cambridge to Peterborough and Thetford Bury St Edmunds – Ely/Cambridge
Saturday 17 and Sunday 18 September - Norwich – Ely (Sat) Norwich Peterborough (Sun)
Saturday 24 and Sunday 25 September - Norwich – Ely (Sat) Norwich Peterborough (Sun)